By Ricci Sergienko
Much is to be made of the current state of law enforcement in the Twin Cities. A little more than a year has gone by since the public execution of George Floyd by Minneapolis police officer Derek Chauvin. Since then, the Twin Cities have seen an escalation of violence and surveillance from the law enforcement. Minneapolis and Minnesota are currently flooded with federal law enforcement and privately contracted mercenaries. There are plenty of questions that still remain in the shooting of Winston Smith by U.S. Marshals.
Meanwhile,  4 hours north of Minneapolis in Aitkin County there has been a large contingent of law enforcement surveilling, targeting, and brutalizing water protectors attempting to stop the Line 3 tar sands pipeline being built. A Canadian multinational oil company, Enbridge, is behind building the pipeline. Enbridge has given nearly a million dollars to law enforcement agencies in Minnesota. "Local law enforcement has become the brutal arm of a Canadian corporation," said Mara Verheyden-Hilliard, director of the Partnership for Civil Justice Fund's Center for Protest Law and Litigation and an attorney representing opponents of the pipeline. And we know that Enbridge and Minnesota law enforcement have shared intelligence with each other on water protectors opposed to the pipeline.
Police Presence at #StopLine3 Demonstrations in St. Paul
That leads us to where we were last week – covering the #StopLine3 demonstrations in front of the Minnesota state capitol. When we arrived at the  capitol in the morning of August 25th, it felt like every Minnesota state trooper was there too. This was their setup for a permitted protest that people had not even arrived at yet:
🚨🚨Line 3🚨🚨

We're on the ground at the Minnesota Capitol for today's #StopLine3 demonstration. There is a noticeable police presence here & entire Capitol is blocked off.

There must be at least 100 visible cops, seems a bit excessive for a demonstration that hasn't started pic.twitter.com/36y7KD7jYa

— RootsAction (@Roots_Action) August 25, 2021
As someone who has attended too many protests over the last two years, and witnessed a lot of police brutality, Wednesday at the Capitol had that special feeling of barely contained violence ready to erupt. 
Hundreds of cops milled around us in every corner of the park, sending the message about who was 'in control.' Not to mention, the entire city had an eerie feeling that there were feds just crawling everywhere. A peaceful protest marked for suppression. 
The capitol was fenced off and surrounded with concrete barriers. Minnesota State Troopers were not the only law enforcement group there, they were joined by officers from the Anoka County Sheriffs Office, Washington County Mobile Field Force, DNR conservation officers, Capitol Security and more agencies.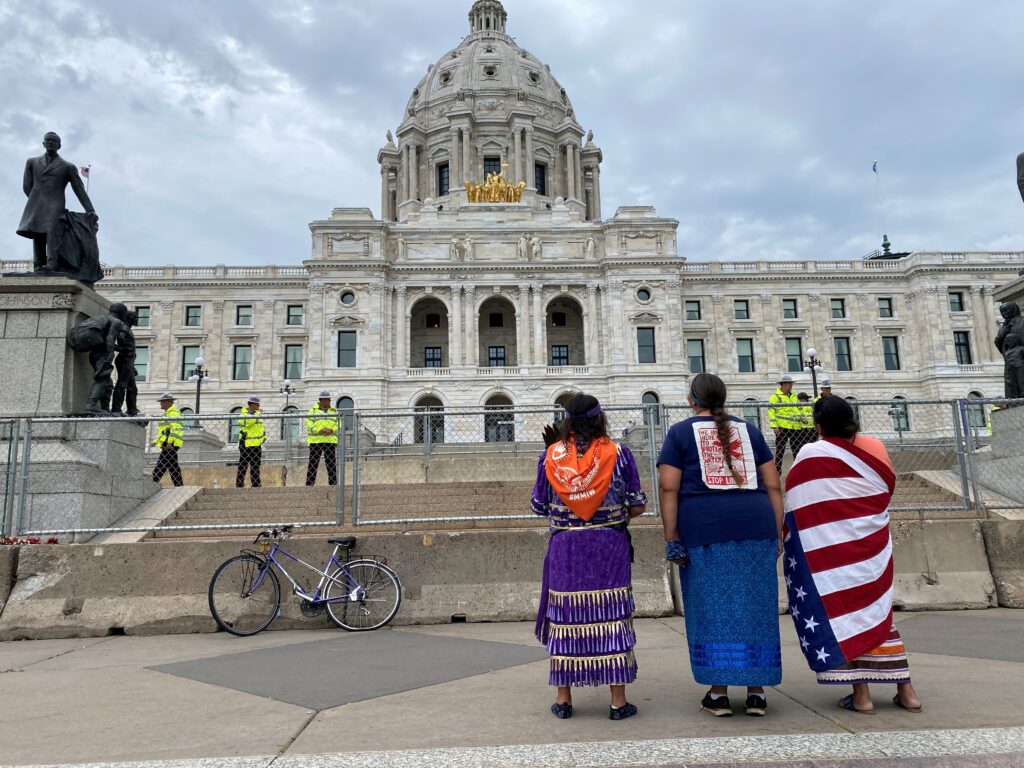 The cops don't show up like that for no reason, or at least any reason related to "public safety." This was about intimidating people exercising their First Amendment rights. Given typical law enforcement procedure and the way they staged the entire capitol that day, they clearly had an escalation plan. I truly believed that it was going to go down that night, that the cops would wait for people to trickle out and attack when folks were most vulnerable. It's funny, this was a permitted protest, yet there were groups of cops walking around with plastic handcuffs. This kind of police action doesn't make me feel safe nor does it indicate that the police are there to simply observe/facilitate first amendment rights. My hypothesis was wrong at first as they didn't escalate on the first night but it was ultimately correct, as we would all soon find out.
Water Protectors Gather at the Minnesota Capitol
The capitol was the meet-up spot for where 'water walkers' would gather after walking 256 miles from the Line 3 camps to the MN state capitol.
RIGHT NOW: water protectors and land defenders have marched from the #StopLine3 camps have arrived at the Minnesota State Capitol!

A beautiful scene 😍 pic.twitter.com/lplqRSo85R

— RootsAction (@Roots_Action) August 25, 2021
Eventually thousands of water protectors, allies, and press gathered in front of the Capitol building. Indigenous elders led the day's demonstrations and immediately upon arrival let everyone know that they had arrived:
The water protectors and land defenders, led by Indigenous elders have gathered in front of the Minnesota Capitol with one clear message:

STOP LINE 3. #StopLine3 pic.twitter.com/4KSpi2qNan

— RootsAction (@Roots_Action) August 25, 2021
You could tell the cops were itching for *any* excuse to confront water protectors. At one point they told a group of Indigenous folks that they could not put their sign up on the fence, which did not seem like a lawful order.
WOW! The Minnesota state cops just told indigenous water protectors that they could not put their sign up on the fence in front of the Capitol. This is ridiculous. What law says you can't put up a sign on a fence?

Cops defend white supremacy #StopLine3 pic.twitter.com/VbJ4zw011r

— RootsAction (@Roots_Action) August 25, 2021
But when you think about it, of course the police were out in full force. The Minnesota police were banking on the Line 3 oil pipeline being built because it would mean an increase to the police budget! They *had* to show up in numbers and perform for Enbridge that they were there for them, and not the thousands of people expressing themselves. 
The protesters refused to be deterred, and the demonstration went on, with the police having to watch it all in its entirety. The demonstration had a singular clear demand: STOP LINE 3.
Thousands and thousands people have descended on the Minnesota Capitol today. A beautiful showing of solidarity.

We have one demand: STOP LINE 3 #StopLine3 @ResistLine3 pic.twitter.com/rGJOqCzaX0

— RootsAction (@Roots_Action) August 25, 2021
Just because there was no escalation that led to any arrests on the first night, the police continued with their intimidation attempts throughout the night. They brought up arrest wagons as the sun started to go down, which to me was signaling that they were prepared to make mass arrests. Why else would they make a public display of the wagons?
Cops at the #StopLine3 protest have brought out the wagons, a threat to everyone here that they will make mass arrests. Please keep all eyes on Minnesota state Capitol tonight. pic.twitter.com/xtRqA9j8cN

— RootsAction (@Roots_Action) August 26, 2021
Discussing this kind of police showing and intimidation isn't meant to make you go into despair, it's the reality of the situation. But as Rep. Omar showed us, solidarity and people power can overcome everything. We cannot be silent in the face of oppression.
Solidarity with everyone protesting for a livable planet, and for our future in Minnesota tonight. ✊🏽 #StopLine3 https://t.co/5j0e3doi0N

— Ilhan Omar (@IlhanMN) August 26, 2021
Eventually the decision was made to move the demonstration across the way to the south lawn, still in front of the state capitol. Hundreds of people remained throughout the night.
Solidarity forever. #StopLine3 pic.twitter.com/n3pLH8EoF6

— RootsAction (@Roots_Action) August 26, 2021
Generally the cops did not bother the water protectors, except for the one time that we were told that no tents could be put up.
🚨🚨Line 3🚨🚨

Tense situation. The cops just showed up and told us that we cannot put any tents up. They said they would arrest anyone with or in a tent. This is fucked up. #StopLine3 pic.twitter.com/UEwmIxQwAY

— RootsAction (@Roots_Action) August 26, 2021
Much to my surprise, there was no police escalation that night either. But I still had *that* feeling that something was going to go down. When the cops show up in full force and they don't get to abuse people's rights, you better believe that they are itching to do so . I was supposed to leave on Thursday but I decided to extend my trip – there was no way the cops weren't going to  escalate violence against water protectors over the next few days. It was going to happen and I wanted to make sure that we captured it.
Demonstrators Continue to Hold Space at the Capitol
When we arrived back at the capitol the next day, Thursday, August 26th, there were more than 100 people still there, holding it down. And to no one's surprise, there were plenty of visible cops still there too.
🚨🚨Line 3🚨🚨

MINNESOTA – we are back out here (& so are the cops) in front of the state capitol. We will be here all day! Join us!

Come stand in solidarity with the water protectors and land defenders and DEMAND @JoeBiden @GovTimWalz STOP LINE 3 #StopLine3 pic.twitter.com/SfjErP6Vn4

— RootsAction (@Roots_Action) August 26, 2021
Thursday was a wet and stormy day, we spent much of it seeking shelter. But many people remained in front of the capitol and were committed to carrying out this ceremony.
Hey folks – would've loved to have more to show you in front of the Minnesota state capitol today – it's been a wet & stormy day. We're still out here (& so are the cops). Water protectors are in good spirits, under tarps and singing in unison

We'll be here all night #StopLine3 pic.twitter.com/YtKIExSWED

— RootsAction (@Roots_Action) August 27, 2021
MN state troopers warned water protectors that were still out in front of the capitol that the permit expired at 10 pm and anyone still out there was subject to arrest. The cops started to make a formation on the capitol steps as though they were ready to come rushing down and start making arrests. For what? People existing on public space? The cops don't control public space.
Minnesota state police are getting into formation on the Capitol steps. Water protectors are surrounding a tipi finishing up the ceremony for the night. Will update if cops move forward.

The demand remains the same: #StopLine3 pic.twitter.com/f9OLD1Vpvq

— RootsAction (@Roots_Action) August 27, 2021
Eventually, the cops decided to take a step back and go inside for the night. Likely due to the fact that it was terrible  weather and I don't think anyone wanted to be out there. We stayed out there late, skeptical that the police were truly done, but ended up going home sometime in the wee hours of the morning.
Water protectors are still holding it down! We will be here all night. And tomorrow too!

Solidarity forever ✊✊✊ #StopLine3 https://t.co/XoWXp66dJe pic.twitter.com/MaVrd8XnSr

— RootsAction (@Roots_Action) August 27, 2021
Police Escalation
Due to a few late nights at the capitol, I figured that I would try to get some rest on Friday morning and sleep in a little before heading back over there. However, Minnesota state troopers had other plans. I checked my phone sometime early morning on Friday, August 27th and I saw a distressing message that indicated the cops were getting ready to roll out on water protectors. I quickly got ready and headed out (leaving behind my portable charger and wallet).
When I arrived on the scene there were HUNDREDS of cops surrounding a ceremonial tipi and water protectors. This was a classic move by law enforcement, wait until numbers dwindle down and then attack when people are most vulnerable. There were very few people outside the perimeter that the cops set up when I first got there, it was an extremely concerning situation. Quite a few cops are eager for violence while they uphold white supremacy. Modern day policing in the U.S. derived in part from slave catching patrols. Any opportunity to carry out those traditions, they'll take it.
🚨🚨Line 3🚨🚨

RIGHT NOW – cops in front of Minnesota state Capitol have surrounded water proctors and their ceremonial tipi! There are hundreds of cops. They are threatening arrest. ALL EYES ON WATER PROTECTORS #StopLine3 pic.twitter.com/lxflvMMvsx

— RootsAction (@Roots_Action) August 27, 2021
But what I saw from the water protectors was  a willingness to stand up and say "no, we don't have to move just because you say so." Much respect and solidarity to the folks that showed up, held it down, and put their bodies on the line in the face of armed members of the state.
This kind of police presence seems ridiculous. There are teenagers in there. What's the point of this? Please keep your eyes on water protectors. It feels like shit is about to go down. #StopLine3 https://t.co/8djW0z9z1g pic.twitter.com/X8jJrbepAl

— RootsAction (@Roots_Action) August 27, 2021
There was a bunch of milling around, waiting for the cops to make their next move as people started to trickle and observe what was happening. The cops were beginning to lose their power and they needed to regain it. They didn't come out like this, surrounding a tipi and water protectors with their weapons, for nothing. Their plan was to remove these Indigenous elders and water protectors by any means necessary. The more people that showed up, the more opportunities to catch the cops brutality on tape.
You could feel an escalation bound to happen because, again, the cops don't just show up like that and leave. They are trained to escalate and so they *had* to escalate, they couldn't back down now! Enbridge would be so disappointed! And so it happened: some cops from outside the perimeter walked in and started to push the water protectors in front of the tipi. For what, you may ask? Because they didn't want to leave the capitol lawn, a space they were peacefully occupying for over 2 days. The folks there never gave a reason for the cops to put their hands on them but due to the nature of policing, that's what the cops did anyways. 
As usual, demonstrations are peaceful and nonviolent only to the extent the cops are. One person made the decision to go in and join their comrades, giving the cops the opportunity they were looking for to assault more people.
GOING DOWN: water protectors are being arrested. Cops have escalated on folks here. #StopLine3 https://t.co/LL0TXjh253 pic.twitter.com/VGwxltquav

— RootsAction (@Roots_Action) August 27, 2021
It's a tale as old as time – the cops brought the violence to a nonviolent peaceful demonstration. They took their billy clubs out to signify to anyone there that the cops were ready to beat them, if necessary.
Each cop has taken their billy club out and it seems like they are ready to use them. This is a nonviolent peaceful demonstration. The cops are the ones who have brought violence here today. #StopLine3 pic.twitter.com/TWfCnt545s

— RootsAction (@Roots_Action) August 27, 2021
Honestly, looking at the scene in front of the capitol on the 27th, does this make you feel safe? Because I didn't feel safe and I was only there to observe. I was prepared for the cops to come after me (and everyone there) for filming their brutality and intimidation.
Does this make you feel safe? That paid members of the state show up like this for unarmed nonviolent demonstrators?

What is going on @GovTimWalz???? #StopLine3 pic.twitter.com/n1Ix2vFiVo

— RootsAction (@Roots_Action) August 27, 2021
Cops Don't Make Us Safe, Arrest 69 Demonstrators
Due to a swell of people that eventually showed up in front of the capitol and the fact that people were out there broadcasting to the world what was happening, the cops ended up standing down! A few arrests were made but this could have been much, much worse.
COPS ARE STANDING DOWN!!!

Shoutout to all of the amazing water protectors and land defenders that showed up, held it down, and put their bodies on the line. Shoutout everyone at home that amplified what was happening! Solidarity forever. #StopLine3 https://t.co/LL0TXjh253 pic.twitter.com/nKeScmYlGm

— RootsAction (@Roots_Action) August 27, 2021
There is no doubt in my mind that because of images and videos getting shared that morning, the cops *had* to stand down at that point. They got a little brutality out of their system, made some arrests, and made everyone uncomfortable in their presence. But the scene of hundreds of cops surrounding a tipi is simply not a good look.
Just because they stood down for the day doesn't mean that the police brutality around Line 3 was going to end but it did mean that we didn't witness any serious escalation by the police. It didn't take very long before they got to act out again. The next day, Saturday August 28th, Minnesota state troopers arrested 69 water protectors that were outside MN Governor Tim Waltz's mansion.
✊🏼💦❤️Solidarity to a bus full of arrestees/water protectors, many of whom have multiple arrests to #stopline3.

Donate: https://t.co/S9ChQCLjDk

Follow: @ResistLine3 @GiniwCollective @HonorTheEarth

Join the frontline: https://t.co/HsETARqiH0 pic.twitter.com/C9V6dMTC2M

— RootsAction (@Roots_Action) August 28, 2021
This was my first time "covering" a protest but I hope I was able to show people what was happening on the ground. I just knew the cops were going to escalate at some point, I kept repeating it to my colleagues for the 3 days we were there, I just didn't know when it was going to happen. 
Overall, it was a worthwhile experience and honestly inspiring to see folks show up and stand up for what is right. Notably – this was an extremely unique demonstration and organizing moment (to me), it was an Indigenous-led demonstration based on ceremony and not protest. Many of the water protectors that had been at the Line 3 camps and at the Capitol are queer, BIPOC youth. To them I say thank you for your revolutionary spirit. I was truly inspired by their commitment to community safety and their willingness to confront the State of Minnesota in the face of violence. 
Because who keeps us safe? We keep us safe.