Released ahead of a Biden administration report, the assessment warns that the danger of nuclear war is greater than ever.
By Jessica Corbett, Common Dreams
"What we need now is a 'nuclear posture' that enables us to reduce the real risk of nuclear confrontation through accidental launch or miscalculated escalation, and to accelerate a global reduction and rapid elimination of nuclear weapons."
That's according to Veterans for Peace, a U.S.-based international group that on Wednesday released an assessment of the current threat of nuclear war ahead of the Biden administration's highly anticipated "Nuclear Posture Review" (NPR).
Initiated during the Clinton administration and continued under all the presidents since, the NPR "establishes U.S. nuclear policy, strategy, capabilities, and force posture for the next five to 10 years," in the words of the Department of Defense.
"Veterans have learned the hard way to be skeptical of our government's military adventures, which have led us from one disastrous war to another," said Ken Mayers, a retired Marine Corps major, in a Veterans for Peace statement.
"Nuclear weapons are a threat to the very existence of human civilization," he continued, "so the U.S. nuclear posture is too important to be left to the cold warriors at the Pentagon. Veterans for Peace has developed our own Nuclear Posture Review, one that is consistent with U.S. treaty obligations and reflects the research and work of many arms control experts."
The organization's new report takes stock of the nuclear weapons in the world today and points out that "the U.S. and Russia each maintain about 900 weapons on hair-trigger alert, mounted on missiles, poised and ready to fire."
Veterans For Peace released its own assessment of the current global threat of nuclear war, ahead of the anticipated release of the Biden Administration's Nuclear Posture Review. The VFP's Review warns that the danger of nuclear war is greater than ever. https://t.co/Z4Dcbwby9P

— Veterans For Peace (@VFPNational) January 19, 2022
The report further notes that "the U.S. offers extended nuclear deterrence to all of its NATO allies, as well as to its Pacific allies Japan, Australia, and South Korea."
The assessment outlines U.S. nuclear posture considerations with regard to not only Russia but also all the other nations known to have such weapons: China, France, India, Israel, North Korea, Pakistan, and the United Kingdom.
The document comes amid rising tension between Moscow and Washington over Russia's buildup of troops along its border with Ukraine and allegations of a potential imminent invasion as well as the Russian government's concerns about NATO expansion.
Veterans for Peace offers President Joe Biden 16 recommendations divided into three categories: unilateral, immediate posture changes; negotiations for nuclear disarmament; and implementation of treaty obligations.
The recommendations range from implementing a no first use policy and terminating the "nuclear modernization program," to ratifying the Treaty on the Prohibition of Nuclear Weapons and the Comprehensive Test Ban Treaty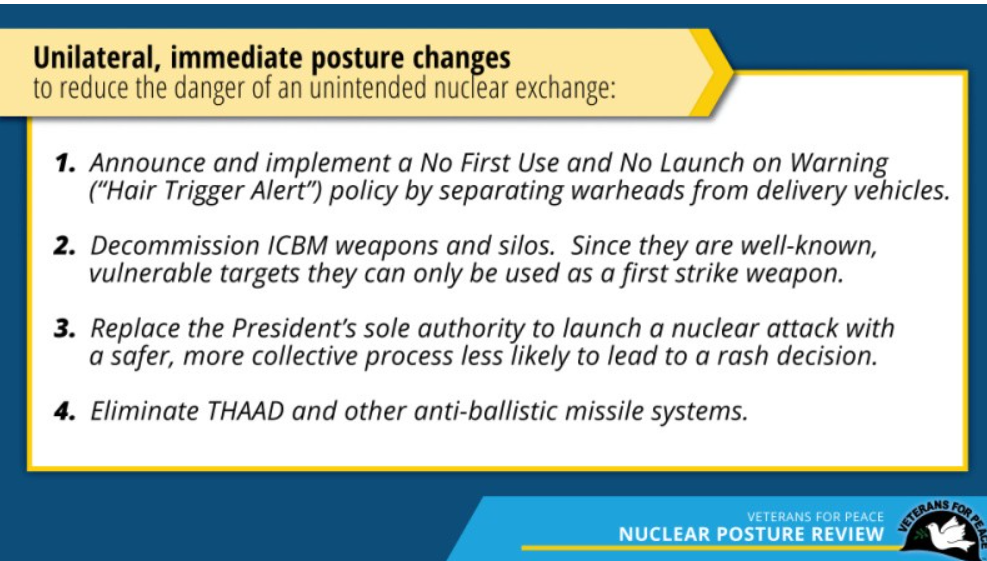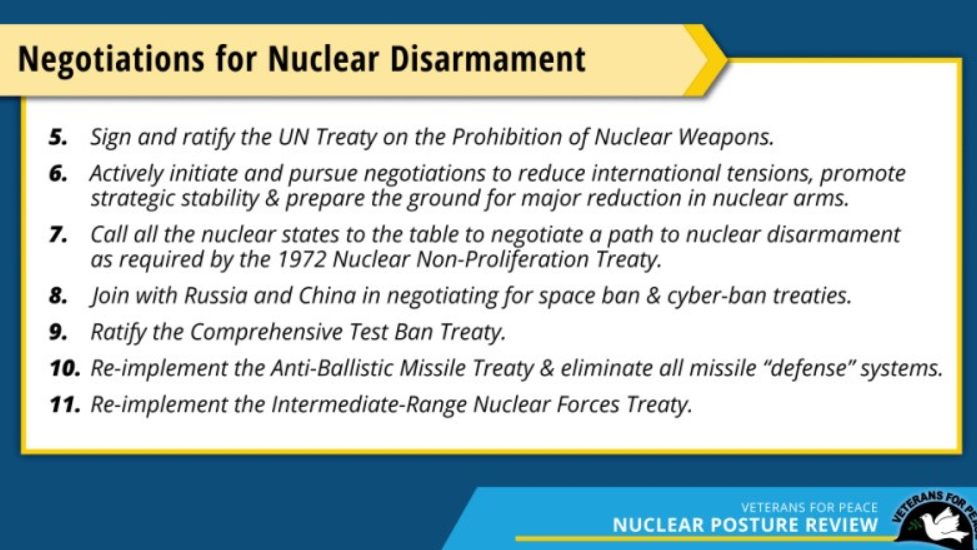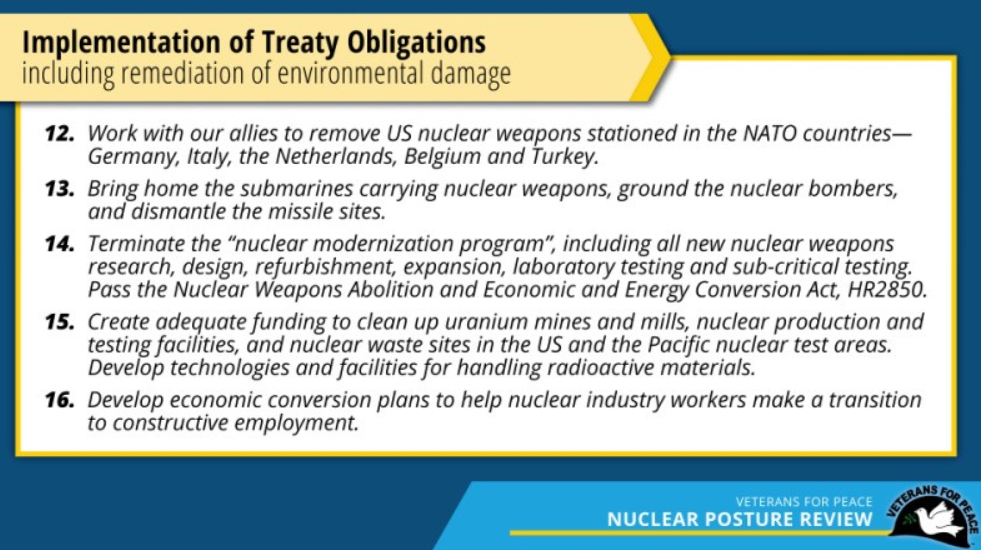 "This is not rocket science," said Gerry Condon, a Vietnam-era veteran and former president of Veterans For Peace. "The experts make nuclear disarmament seem impossibly difficult. However, there is a growing international consensus against the existence of such weapons."
"The Treaty on the Prohibition of Nuclear Weapons was approved overwhelmingly by the U.N. General Assembly in July 2017 and went into effect on January 22, 2021," he pointed out. "It IS possible and necessary to eliminate all nuclear weapons."
Noting the importance of building "an intersectional movement for peace at home and peace abroad," the new report says that "we are making common cause with the burgeoning climate justice movement, proclaiming that climate catastrophe and nuclear war are the twin threats to all life on Earth."
That warning will be echoed by the Bulletin of the Atomic Scientists on Thursday, when the group updates its "Doomsday Clock," a decades-old symbol for "how close we are to destroying our world."
Since January 2020, based on the climate emergency and nuclear conditions, the clock has been set at 100 seconds to midnight, signaling the most dangerous situation humanity has ever faced.
Earlier this month, leaders of the five permanent United Nations Security Council members, or P5—China, France, Russia, the United Kingdom, and the United States—issued a joint statement acknowledging the dangers posed by the nuclear weapons they all possess.
"We affirm that a nuclear war cannot be won and must never be fought," they said in part. "As nuclear use would have far-reaching consequences, we also affirm that nuclear weapons—for as long as they continue to exist—should serve defensive purposes, deter aggression, and prevent war."
Jon B. Wolfsthal is a senior adviser at Global Zero—the international movement for the elimination of all nuclear weapons—and advised Biden during his vice presidency. He noted the P5 statement in a Monday opinion piece for The Washington Post.
Wolfsthal wrote:
As a senator, vice president, and presidential candidate, Biden indicated that he might be ready to accept a more restrictive set of nuclear policies, including adopting a clear statement that the sole mission for U.S. nuclear forces is to deter and, if necessary, respond to a nuclear attack on the United States or its allies. The Nuclear Posture Review would be just the place for issuing this overdue statement of clarity. But U.S. statements must be credible, which means also implementing changes to force structures, targeting, and procurement.

Saying that Washington opposes nuclear war-fighting while pursuing more than $1.2 trillion over the next three decades in nuclear modernization—including new missiles, submarines, stealth bombers, and hard-to-track cruise missiles—damages America's credibility. Moscow's own modernization, and signs that China is increasingly seeking some form of nuclear parity with Russia and the United States, further undermine the value of the P5's feel-good statement. Though that statement was a step in the right direction, the words remain hollow and even dangerous if not followed by concrete actions.
"The danger of escalation to nuclear war remains all too real," Wolfsthal warned. "Rejecting nuclear war-fighting in all of its forms should be a minimum approach for Biden. Failure to do so would only worsen the ongoing arms race among the United States, Russia, and China."