By Jake Johnson, Common Dreams
Peruvian President Pedro Castillo—the leader of the country with the highest Covid-19 mortality rate in the world—is calling for an international agreement between nations and pharmaceutical companies to ensure equal, universal access to the coronavirus vaccine in an effort to combat massive inequities in distribution.
In his remarks at the United Nations General Assembly in New York this week, Castillo argued that the fight against Covid-19 has "demonstrated the inability of the international system to cooperate under the principles of efficiency and solidarity."
"We need agreements to ensure equity in access to vaccines," Castillo, who defeated a far-right opponent in Peru's June presidential election, said in his address to other world leaders.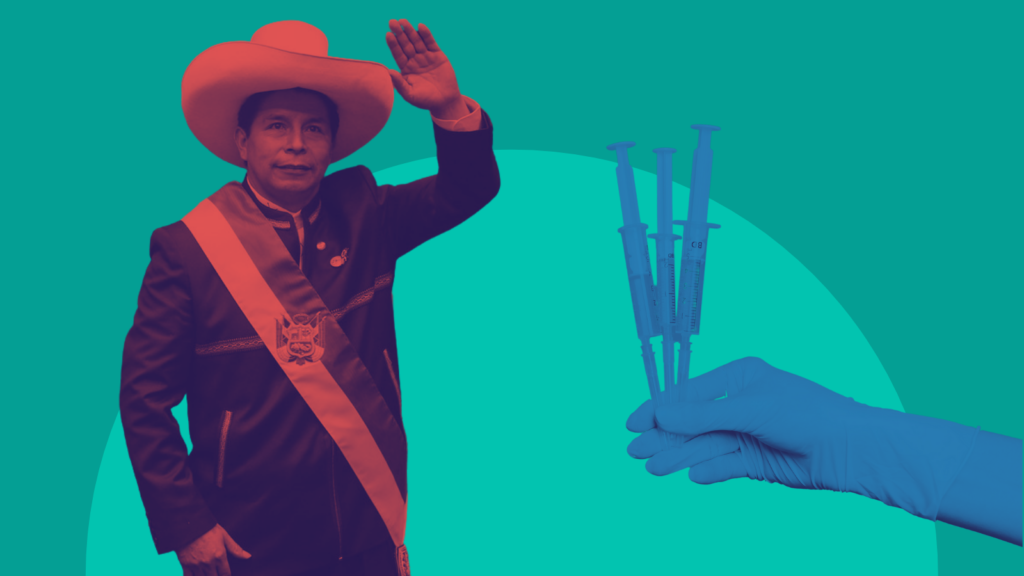 To that end, Castillo proposed a global accord "between heads of state and the owners of patents to guarantee universal access to vaccines for all people on the planet, with no discrimination on the basis of privilege."
"Peru will be an active and dynamic member in the common task so that all countries have inclusive access to all diagnostics, medicines and vaccines, as well as technology and health products required in the response to Covid-19," Castillo said in his speech.
Thus far, major pharmaceutical companies have sold much of their vaccine supply to rich nations. According to an Amnesty International analysis released earlier this week, Pfizer and BioNTech have delivered nine times more vaccine doses to Sweden alone than to all low-income countries combined. Moderna has not delivered a single vaccine dose to a low-income nation, Amnesty found.
Peru has fully vaccinated just 29% of its population, and the country has been ravaged by the coronavirus pandemic, recording around 200,000 deaths to date. In May, the nation revised its official death toll dramatically upward—from around 68,000 to 180,764—after a scientific review of medical records revealed severe shortcomings in earlier data collection efforts.
The Lambda mutation of the coronavirus, currently classified as a "variant of interest" by the World Health Organization, was first identified in Peru and has since spread to dozens of countries.
Epidemiologists have long argued that leaving much of the world without access to vaccines heightens the risk of dangerous coronavirus mutations emerging and spreading widely, prolonging the pandemic everywhere. The Delta variant, now the dominant coronavirus strain across the globe, was first detected in India, which has struggled to vaccinate its population amid global supply shortages.
With nearly 8,500 people worldwide still dying each day from Covid-19, the leaders of other developing countries echoed Castillo's urgent call for vaccine equity during their remarks at the U.N. General Assembly this week. Ghana President Nana Akufo-Addo told the gathering on Wednesday that Africa is "suffering the worst brunt of vaccine nationalism."
"Ghana agrees with the call of the Rome Declaration of Global Health for voluntary licensing and technology transfers to boost vaccine production," he added.
But during a virtual coronavirus summit hosted by the U.S. on Wednesday, President Joe Biden focused primarily on vaccine donations, touting his administration's new agreement with Pfizer to purchase another 500 million doses to give away to other countries.
In a speech following Biden's remarks, World Health Organization Director-General Tedros Adhanom Ghebreyesus pointed out that "high-income countries have pledged more than 1 billion doses, but less than 15% of those doses have materialized." Just 2.1% of people in low-income countries have received at least one coronavirus vaccine dose, according to Our World in Data.
"We need an ironclad global commitment today to support the vaccination of at least 40% of the population of every country by the end of this year, and 70% by mid-2022," said Tedros. "To reach that target, we need 2 billion doses for low- and lower-middle-income countries, right now."
Nick Dearden, director of the U.K.-based advocacy group Global Justice Now, said following Biden's Covid-19 summit that "the Global South demanded vaccine justice in stark terms at the U.N. today."
"This obscene inequality will not be forgotten quickly," Dearden continued. "Charity isn't enough—only radical economic change will ensure it never happens again."
COVID-19 Global Solidarity Manifesto To: Policy Makers
Petition Text
The COVID-19 crisis has revealed the urgency of changing global structures of inequity and violence. We, people around the world, will seize this historical moment. We are building solidarity at every level: local, national, global. Despite the need to physically distance, we are building mutual aid groups, community networks, and social movements. We declare this manifesto today to offer a vision of the world we are building, the world we are demanding, the world we will achieve.

1. We demand strong, universal health care systems and health care as a basic right for all humans.

2. We demand an immediate global ceasefire in all conflicts and an end to the disease of war. We demand that every nation move at least half its military spending to provide health care, housing, childcare, nutrition, education, Internet access, and other social needs so we can truly protect people's physical, psychological, and economic security, including through the closure of foreign military bases, the cessation of military exercises, and the abolition of nuclear weapons.

3. We demand that unsustainable capitalist economies, based on the fantasy of endless growth, be replaced with cooperatively based economies of care, where human life, biodiversity, and our natural resources are conserved and a universal basic income is guaranteed so that governments can work together to combat the existential threat of climate change.

4. We demand an immediate lifting of all sanctions targeting entire nations, which are impoverishing vulnerable populations and killing people by blocking access to medicines and medical supplies.

5. We demand that all workers be protected against COVID-19 and have their long-term occupational health, economic, and labor rights guaranteed.

6. We demand the full protection of all people, especially the most vulnerable, including women and other victims of intimate partner violence and child abuse, the elderly, the impoverished, prisoners and detainees, refugees and other displaced peoples, migrants regardless of immigration status, the homeless, LGBTQIA+ individuals, racial/ethnic minorities, indigenous peoples, and those disability or ability challenged, among others.

7. We demand that wealthy nations live up to their responsibility to provide medical aid (including through the World Health Organization) and debt relief to save lives in countries without strong public health systems because of long histories of colonialism, neocolonialism, and other exploitation, foreign and domestic.

8. We demand that governments and corporations respect privacy and not exploit the pandemic to expand repressive measures such as surveillance, detention without trial, and restrictions on basic human rights to assembly, free expression, self-determination, and the vote.

9. We demand that when governments implement economic stimulus programs and re-open their economies they prioritize the needs of people over the interests of corporate, financial, and political elites.

In a world where the gap between rich and poor is obscene, with the world's richest 1% having more than twice the wealth of 6.9 billion people, a fundamental redistribution of wealth and power globally and within nations is imperative. Every human being must have the opportunity to live a healthy, creative, and fulfilling life, free of the ravages of poverty, exploitation, and domination.


Why is this important?
A group of around 50 people from more than 12 countries drafted the Manifesto in recent weeks. Many prominent people are supporting it. People in general are more awake to the absurdity of a planet in which the richest 8 people have more wealth than the poorest 3.8 billion than ever before as this pandemic spreads. We are circulating this widely in multiple languages to help frame the debate and actions moving forward, raising global demands that address the inequity resulting from decades of neoliberal economic policies and rampant and unbridled militarism.