A FAIR analysis of the 100 most-subscribed YouTube news channels worldwide found that the majority of the top news channels on the platform are not independent.
By Olivia Riggio, FAIR.org
Despite the proliferation of fringe ideologies on YouTube—and the availability of truly alternative information there—the video hosting service's anti-establishment status may be overblown.  A FAIR analysis of the 100 most-subscribed YouTube news channels worldwide found that the majority of the top news channels on the platform are not independent.
YouTube has a reputation for hosting news that challenges the status quo. In 2020, a Pew Research Center study highlighted YouTube's potential to spotlight more independent news sources, indicating that 42% of YouTube news channels are not affiliated with a traditional news outlet.
The shadow side of that finding is that YouTube is a breeding ground for internet conspiracy theories and extremist views (FAIR.org, 3/20/18). In fact, it was the platform on which QAnon conspiracy theories first moved from the fringes of 4Chan to the mainstream (New York Times, 10/15/20). A 2021 Anti-Defamation League study found that despite its efforts to remove extremist content from its site, YouTube's recommendation algorithm still pushes extremist and "alternative" content to users—especially if they've already sought out such content—pushing them further down the rabbit hole.
Overwhelmingly corporate
But despite the focus on the site's independent and sometimes extremist offerings, 83 of the top 100 YouTube news channels—based on a list from SocialBlade, a website that tracks YouTube statistics, as of May 4—are corporate media, meaning owned and funded by large companies or conglomerates. Only four of the 100 top news channels are independently run.
The top channels encompass journalism from around the world, with only 12 based in the United States, and 81 coming from the Global South. Of the 12 US-based channels, all but two are owned—in whole or in large part—by six parent corporations.
The cable giant Comcast, through its NBCUniversal subsidiary, itself owns four of the 10: NBC (ranked 60th worldwide/8th in the US, with 6.7 million subscribers), Telemundo (ranked 77th/9th, with 5.7 million subscribers), MSNBC (ranked 97th/12th, with 4.9 million subscribers) and a stake in Vox Media (ranked 26th/3rd  with 10.5 million subscribers). Disney owns ABC (ranked 19th/2nd with 13 million subscribers) and a stake in Vice (ranked 51st/6th, with 7.7 million subscribers).
Warner Bros. Discovery , through its Turner Broadcasting subsidiary,  owns CNN (ranked 15th/1st) with its 13.7 million subscribers.
National Amusements, through Paramount, owns CBS, which produces Inside Edition (ranked 27th/4th with 10.5 million subscribers). The Murdoch family's Fox Corporation owns Fox News (ranked 35th/5th with 9.4 million subscribers). Televisa Univision, headquartered in Miami and Mexico City, owns Univision, whose news channel Univision Noticias is ranked 58th/7th, with 6.8 million subscribers.
The two independent channels are DramaAlert (ranked 78th in the world/10th in the US, with 5.7 million subscribers) and Cenk Uygur's the Young Turks (ranked 89th/11th, with 5.2 million subscribers). DramaAlert, founded by online troll Daniel M. Keem, aka Keemstar, covers and creates Internet and entertainment controversies. The Young Turks, hosted by Cenk Uygur and Ana Kasparian, is a left-wing news commentary channel.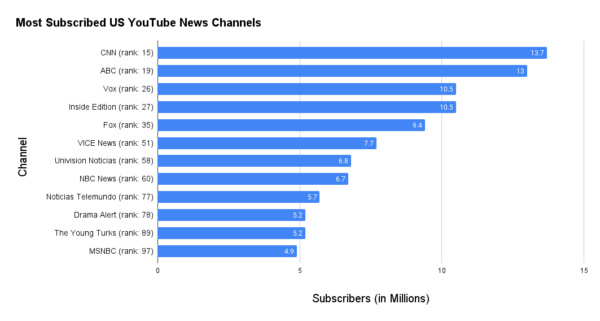 A global platform
YouTube is a global—and multilingual—platform, and the three countries most represented in the Top 100 news list mirror the three most common nationalities of its user base.
Half of the 100 most-subscribed YouTube news channels (plus BBC News Hindi, which is based both in Britain and India) are headquartered in India. The US comes in a distant second, with 12 channels on the list (plus Al Jazeera English, which is based in the UK, US and Qatar). Indonesia comes third, with six sources.
These numbers coincide with the top three leading countries based on YouTube audience size (Statista, 1/22). India (the second-most populous country in the world behind China, where YouTube is blocked) has 467 million YouTube users, followed by the United States (the third-most populous country), which has 240 million users, and Indonesia (the fourth-most populous country) with 127 million users.
The site's top 100 news channels represent 18 different languages. The most frequently spoken, either the sole or a major language on 33 channels, was Hindi, the most widely spoken language in India and the fourth-most common language worldwide.  Twenty-nine other channels were entirely or partially in English, including three in Hindi and English, two in Urdu and English, and one in Filipino and English.
Six channels on the top 100 list were in Indonesian, followed by five in Arabic and five in the South Asian language of Tamil. Four channels each were in Spanish, Thai and Urdu, the lingua franca of Pakistan. Other languages represented on the list were Bengali, Filipino, Portuguese, Japanese, Russian, Vietnamese and the Indian languages of Malayalam, Marathi, Odia and Telugu.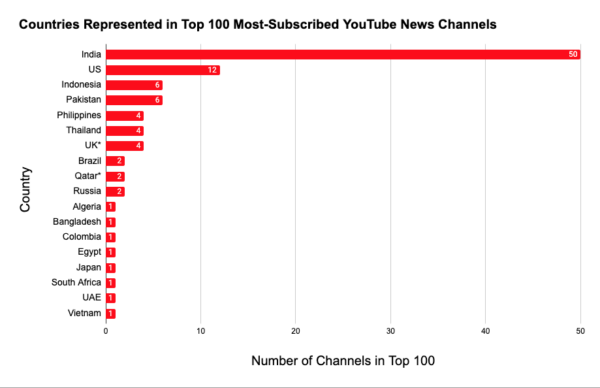 Aaj Tak, part of India's TV Today Network and the New Delhi–based media conglomerate Living Media group, is the platform's most popular news channel, with 51 million subscribers. The Modi government–friendly conglomerate is associated with several other YouTube channels on the top 100 list:
News Tak (ranked 43rd with 8.7 million subscribers)
Good News Today (ranked 70th with 6 million subscribers)
India Today (ranked 72nd with 5.9 million subscribers)
Bharat Tak (ranked 75th with 5.8 million subscribers)
Crime Tak (ranked 80th with 5.7 million subscribers)
UP Tak (ranked 79th with 5.7 million subscribers)
Aaj Tak HD (ranked 90th with 5.2 million subscribers).
All together, Living Media's top YouTube channels have nearly 94 million subscribers.
Seventy-three of the 88 non-US-based channels on the list are owned by corporations. Two are independent: National Dastak (ranked 73rd with 5.9 million subscribers), an online-only alternative outlet that focuses on marginalized sections of India, and Raffy Tulfo in Action (ranked 5th with 23 million subscribers), a Filipino broadcast journalist whose program focuses on abuses of power against laborers and ordinary citizens.
Six channels were government-funded, or were the platforms of government figures (such as Indian Prime Minister Narendra Modi, who ranks 27th on the list with 11 million subscribers.) Two channels were affiliates of the Qatari government–owned Al Jazeera Media Network. Five channels' affiliations were undetermined.
Misinformation and sensationalism
Some channels on the top 100 list are known for misinformation and sensationalism. India's Aaj Tak, the No. 1 news channel on YouTube, came under fire in 2015 after a leaked video surfaced of a reporter bribing a homeless child to elicit a statement (BuzzFeed, 11/4/15). In 2020, the channel was fined for attributing fabricated tweets to Indian actor Sushant Singh Rajput after his death (New Indian Express, 10/8/20).
The Indian channel Zee News (No. 4, with 25 million subscribers) has published fabricated stories, including claims that an Indian gangster had billions of dollars worth of property seized in the United Arab Emirates (Janta Ka Reporter, 1/5/17). Thairath Online (No. 12, 14 million subscribers) is the video channel of a Thai tabloid that sparked controversy in 2020, when it referred to the Philippines as "the land of the Covid" (Twitter, 8/10/20). Cidade Alerta Record (No. 98, 4.9 million subscribers) is a sensationalist police and crime program aired on Brazilian Record TV. Misinformation spread on Fox has spanned topics including Covid, climate and the 2020 election (FAIR.org, 10/6/20; Poynter, 7/21/21; FAIR.org, 10/26/21).
While YouTube offers the possibility for independent sites to reach a wider audience, its most-subscribed news channels remain largely reflective of the corporate biases of the global media landscape as a whole.
---
Olivia Riggio is a journalist and FAIR author who became FAIR's administrative and fundraising director in April 2021. You can follow her on Twitter @oliviariggio97.